The visit of Russian and Belarusian journalists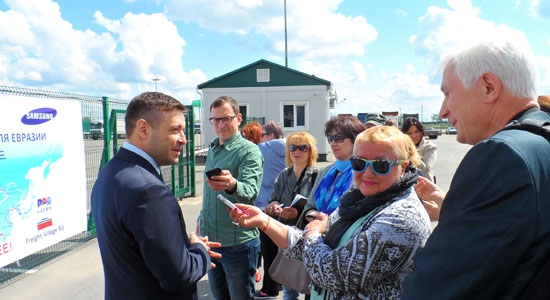 On May 24, 2016 the delegation of Russian and Belarusian journalists visited multimodal transport and logistics center Freight Village Vorsino in frames of the press tour "Investments attraction into the development of the regions of Russia. Experience of the Kaluga region".

Andrey Tokarev, Vice-president on logistics of Freight Village RU, made the presentation of the federal project Freight Village Vorsino, operating in the European format of "freight village", where in the single multimodal terminal all the cargo is being handled coming by auto, avia and railway transport.

Mr. Tokarev also gave the detailed explanation of the railway terminal opportunities and its handling capacity growth up to 500 000 TEU per year, as well as provided information about existing and planned regular block trains routes, including the new route from China – "New Silk route", the delivery time of which is less than 14 days.