Freight Village Vorsino received the PROESTATE AWARD 2017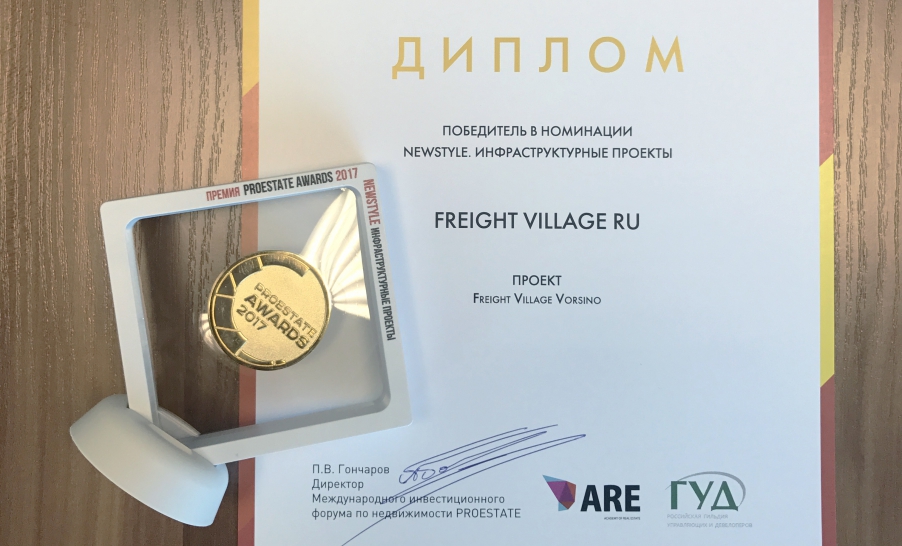 September 15, 2017, Moscow. We are pleased to announce that Freight Village Vorsino received the PROESTATE AWARD 2017 in the "NEWSTYLE. Infrastructure project" category!
Annually PROESTATE unites 4000 property market leaders. The forum is supported by the Ministry of Building and Housing and Communal services of Russian Federation and the Moscow City Government.
PROESTATE AWARD 2017 is held under the auspices of PROESTATE 2017 and co-operated with the main topic of the forum - REAL ESTATE FULL CYCLE". Full-cycle development: from concept to implementation."
More than 150 applications were submitted for participation in the award, which were distributed in 3 main categories: LIFESTYLE, RENEWAL and NEWSTYLE. The winners were determined in 2 stages: first the finalists were announced, than the jury selected the winners. This year the jury commission included moderators of PROESTATE forum – top managers, company's chiefs executive of market participants, representatives of government and public structures, leading real estate market journalists, the presidium and heads of regional representative offices of the Russian Guild of Property Managers and Developers.
We are sincerely glad to receive the Award and the commemorative coin of PROESTATE AWARDS, which personifies the financial and reputational capital earned as a result of activity in the real estate market. The symbol of victory overcomes the old tradition, when a coin was laid in the foundation during construction.
We are proud that Freight Village Vorsino is the best in the next prestigious nomination and recognized as the Best infrastructure project. For us, it is not only well-deserved reward, but also the stimulus inspiring the further development of the project and the achievement of the new heights!