New rail route from Vorsino to China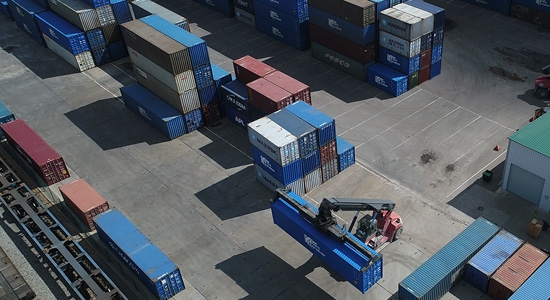 Moscow, September 14, 2017 – The largest multi-modal logistics operator in the CIS and Baltic, Russian Railways Logistics, is once again working in tandem with the Russian Export Center and Freight Village RU to expand its non-commodity export service from Russia to China with the opening of a new route between Vorsino and Chengdu.
This service represents a new step in the development of exports via container train, following the successful launch of the Vorsino–Dalian route in April 2017. The route will come under the REC's project to support exporters of non-commodity products during the transportation phase to China.
Efforts to study the delivery statistics of the two routes and optimize the service are ongoing. It is our hope that we will be able to achieve a several-fold increase in the volume of deliveries to China, and implement similar projects in other regions across Russia. Our main objective in this regard is to make sending goods by rail more accessible to exporters. To that end, the REC has developed a set of measures to compensate a percentage of an exporter's logistics expenses. We have seen such mechanisms to be in exceptionally high demand in the export community.
Peter FradkovHead of the REC Group
A train running on the new route departed from the Freight Village Vorsino terminal at around 10:00 pm on September 13. It is transporting 41 forty-foot containers to China via the border crossings of Naushki (Russia) and Zamyn-Üüd (Mongolia), and will take no more than 14 days to reach its destination. The consigner is United Confectioners, which is exporting cookies and waffles to China.
This container train has become a reality thanks to TransContainer, which has provided use of its platforms and containers. Over the past few years, Freight Village RU has worked in close cooperation with TransContainer, which is supporting these newly established container services by providing its rolling stock.
Nikolay KruchininGeneral Director Freight Village RU
The consignment heralds the opening of the first circular route between Russia and China via Mongolia. The train schedule will be drawn up in such a way as to avoid empty cars being transported: cars carrying containers from Vorsino to Chengdu will receive additional containers upon its arrival to transport back to Vorsino.

In recognition of the importance of the project to develop non-commodity exports from Russia, Russian Railways Logistics is constantly working to attract new consignments and increase the reach of rail export services. We organized the initial test consignment of confectionary and lumber to Chengdu on August 3, 2017, which was a complete success. And today we're able to offer Russian exporters a new, fully developed rail route. In cooperation with the REC, we plan to continue our efforts to make our services available in as many regions as possible. As a result, we'll be able to offer an accessible and high-quality logistics network to the highest possible number of Russian companies interested in promoting their products across China.
Vyacheslav ValentikCEO Russian Railways Logistics